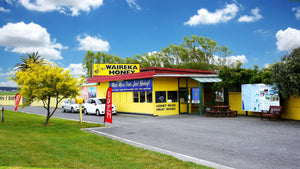 Shop instore or online
Premium Honey Products
Bee keeping supplies
honey Ice cream!
PREMIUM NEW ZEALAND HONEY PRODUCTS
Amber Golden And Soft As Silk, New Zealand Honey Is Some Of The Finest In The World
At the Waireka Honey Centre we produce and stock an extensive range of honey products including... natural honey from leading producers; honey mead, the "nectar of the gods"; healthcare and skincare products.
We also stock a wide variety of bee keeping equipment, We cater for the hobbyist and the commercial bee keeper.
Manuka Honey UMF10+ 1kg
Regular price
$68
Sale price
$54.40
Manuka Honey UMF20+ 250g
Regular price
$69.50
Sale price
$55.60